Purchases
We buy luxury watches, coins, gold, silver, platinum and diamond jewellery.
Instant cash for your valuables!
You too can benefit from our years of expertise in the field of watches & jewelry and get a no-obligation quote for your valuables.
Do you have old gold stocks or high-quality watches & jewelry?
Then come to one of our branches. With us, your valuables are valued transparently, fairly, safely and discreetly.
Watches
We are also extremely interested in buying brand name watches. In addition to their metal value, we also take into account the current demand in the market for collectibles.
We buy high-quality pieces even if they are no longer functional - any repair costs are then taken into account in the purchase price. Should the watch no longer be repairable, we will still reimburse the current material value.
Just bring your good pieces to our experts and get a non-binding offer within a few minutes!
Precious metals
Interested in selling your coins or precious metal bars? We recommend comparing several buyers, since the market is full of dubious players who will pay far too little for your precious metals. We expertly determine the fineness of the alloy and weight of the material and immediately pay you the purchase amount in cash.
The determination of the fineness is done by X-ray fluorescence analysis and is absolutely non-destructive - so you do not have to fear abrasion or damage to your good pieces.
Jewellery
Do you own gold, silver or platinum jewellery or do you perhaps have a diamond-studded bracelet gathering dust in one of your drawers? We will be happy to make you a free and attractive offer for your items of jewellery.
Especially with your high-quality jewelry, it is essential not to damage it through unnecessary abrasion. For this reason, we work with a highly modern method of X-ray fluorescence analysis, this is absolutely non-destructive and allows us to determine the fineness of their jewelry.
Get a non-binding offer today!
Appraisal and fair prices
It is very important to us to appraise the jewellery or gold you bring with you in a fair, transparent and easy to understand manner. To ensure this, we perform all our appraisals using certified specialists and the most advanced equipment and procedures.

Valuation is a matter of trust. Therefore, we would like to involve you as much as possible in the valuation and assess your valuables in a comprehensible way. In doing so, it is particularly important to us to respond to possible queries about our valuations in order to eliminate any ambiguities.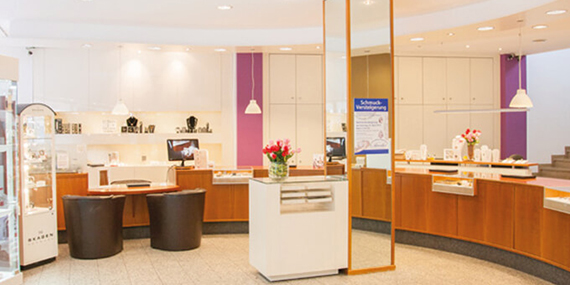 Buying gold from a specialist dealer
If you are planning to sell some of your gold, you should always seek out a specialist dealer. Only a bullion dealer has the necessary experience and expertise to be able to value your precious metals in a comprehensible and fair manner and deal with any queries that may arise.

With a specialist dealer you can be sure to get a realistic value for your precious metals and do not need to conclude a gold sale with an uneasy feeling.
Go to our branches
---
Frequently Asked Questions | Topic: Gold purchases